Montafon Brandnertal WildPass
There's more in it!
Fast, uncomplicated and convenient - Our online shop offers you a wide range of products!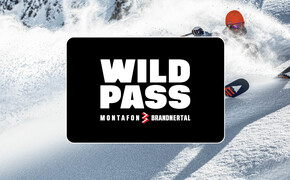 Who books early, profits!
The cable car association Montafon-Brandnertal has a dynamic pricing model for day and multi-day-tickets in winter.
Sounds complicated? It isn't. Those who book early will benefit from lower prices! Tickets can be booked conveniently and easily at attractive prices from home, in the webshop. There's no more waiting in line at the box office. This way, we not only want to improve our service quality, but also offer our guests a fair and family-friendly price model in the future.
Frequently asked questions and the appropriate answers can be found here.
Relaxed booking with the carefree package!
You can't make your stay in Montafon or Brandnertal unexpectedly and want to cancel your booked ski tickets? Then the Montafon Brandnertal Carefree Package is just right for you.
You can book all products comfortably and easily from home on your computer or on the road with your smartphone. THat way, you save yourself some waiting time and you thus have more vacation in your vacation!
All prices in Euro, price changes, errors, mistakes and changes reserved.