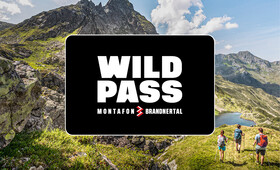 The Leisure WildPass is your ticket to attractive leisure facilities in the Montafon, Brandnertal, Klostertal and Walgau.
Included services:
Cable cars and chair lifts
Public transportation
Toll exemption on the Silvretta High Alpine Road
Public outdoor pools
Museums
Reduction with the Vorarlberg Lines - Lake Constance Shipping
Multi-day tickets are valid as soon as the respective mountain railway has started summer operation.
show more
show less
The Leisure WildPass allows unlimited use on 3 to 14 consecutive days of the recreational facilities listed below:
Validity - Summer 2023
Gaschurn - Versettla cable car
St. Gallenkirch - Garfrescha lift, Hochalpila cable car, Grasjoch cable car
Schruns - Hochjoch cable car, Sennigrat cable car
Tschagguns-Vandans - Golmer cable car
Gargellen - Schafberg cable car Gargellen
Silbertal - Kristberg cable car
Partenen - Tafamunt cable car
Brandnertal - Lünersee cable car, Dorf- und Panorama cable car and Einhorn cable car II, Palüd cable car, Loischkopf cable car
Bludenz-Nüziders - Muttersberg cable car
Klösterle am Arlberg - Sonnenkopf cable car
Schnifis - cable car Schnifis cable car
Sonntag - cable car Sonntag-Stein
Add On: Unlimited use of all 9 open cable cars an chairlifts in Paznaun and Samnaun as well as public transport in Paznaun.


Please bring along your guest card (if you are staying locally), so you can get the reduced tarif.