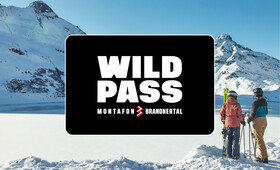 The Montafon Brandnertal Winter WildPass Monday to Friday is your low-cost entry ticket to the nine attractive winter sports regions in Montafon, Brandnertal and Walgau.
Validity - Winter 2023/24
Cable cars in Montafon and Brandnertal, Bludenz and Walgau (during winter operating times)
Montafonerbahn Bludenz-Schruns (for the purpose of winter sports)
Ski buses in the Montafon and Brandnertal (for the purpose of winter sports) and Silvretta Tunnelbus
show more
show less
Only valid Monday to Friday, also on bank holidays which might be during the week.
Scheduled season start*
01. December 2023 Silvretta Montafon (Hochjoch), Bergbahnen Gargellen, 08. December 2023 Golm, Kristberg, Silvretta Montafon (Nova); 16.December 2023 Bergbahnen Brandnertal; 25. December 2023 Vermuntbahn
Scheduled season end*
01. April 2024 Bergbahnen Brandnertal, Kristbergbahn Silbertal; 07. April 2024 Silvretta Montafon (Hochjoch & Nova), Skigebiet Golm; 14. April 2024 Bergbahnen Gargellen; 01. May 2024 Vermuntbahn
* Season start: Weekend operations possible from the beginning of Nov. to the beginning of Dec. or later (partially limited) commencement of cableway operations, or earlier/later end of operations of individual cableways/companies.