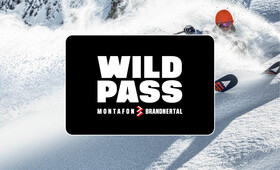 The Montafon Brandnertal Multi Day WildPass is your low-cost entry ticket to the nine attractive winter sports regions in Montafon, Brandnertal and Walgau.
Validity - Winter 2023/24
Cable cars in Montafon and Brandnertal, Bludenz and Walgau (during winter operating times)
Montafonerbahn Bludenz-Schruns (for the purpose of winter sports)
Ski buses in the Montafon and Brandnertal (for the purpose of winter sports) and Silvretta Tunnelbus
Does not apply to additional services, such as evening rides or Alpine Coaster.
Family-friendly offer: In the period from 23.03. to 14.04.2024 children born in 2005 or younger receive free multi-day tickets from 5 days, provided that at least one parent purchases a multi-day ticket from 5 days for the same period. Click here for the family promotion 5 to 14 days!
Choose your start date now!
show more
show less
Scheduled season start*
01. December 2023 Silvretta Montafon (Hochjoch), Bergbahnen Gargellen, 08. December 2023 Golm, Kristberg, Silvretta Montafon (Nova); 16.December 2023 Bergbahnen Brandnertal; 25. December 2023 Vermuntbahn
Scheduled season end*
01. April 2024 Bergbahnen Brandnertal, Kristbergbahn Silbertal; 07. April 2024 Silvretta Montafon (Hochjoch & Nova), Skigebiet Golm; 14. April 2024 Bergbahnen Gargellen; 01. May 2024 Vermuntbahn
* Season start: Weekend operations possible from the beginning of Nov. to the beginning of Dec. or later (partially limited) commencement of cableway operations, or earlier/later end of operations of individual cableways/companies.