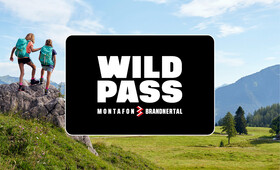 The ticket to endless alpine enjoyment! Summer WildPass holders can enjoy all the facilities offered by the 19 cable cars in Montafon, Brandnertal, Klostertal and Walgau as often as they like and without any restrictions until the start of November. This makes this season ticket the number one choice for all nature lovers far beyond the Vorarlberg borders.
Season ticket summer is valid as soon as respective cable car companies have started their summer season.
show more
show less
Services
Gaschurn - Versettla cable car
St. Gallenkirch - Garfrescha cable car, Grasjoch cable car, Hochalpila cable car
Schruns - Hochjoch cable car, Zamang cable car, Sennigrat cable car
Tschagguns-Vandans - Golmer cable car
Gargellen - Schafberg cable car Gargellen
Silbertal - Kristberg cable car
Partenen - Tafamunt cable car
Brandnertal - Lünersee, Dorf and Panorama cable cars plus Einhorn cable car II, Palüd cable car, Loischkopf cable car
Bludenz-Nüziders - Muttersberg cable car
Klösterle am Arlberg - Sonnenkopf cable car
Schnifis - cable car Schnifisberg
Sonntag - Sonntag-Stein
Free travel for the pass holder on the Silvretta high alpine road when travelling in a private car, on a private motorcycle or by bus. (Caution! Only applies to the toll; bus tickets must still be purchased in line with the applicable tariffs).