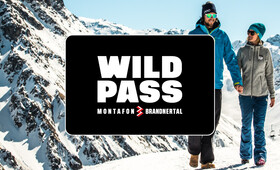 The Sun WildPass allows pedestrians (without sports equipment, exception: snowshoes) to use the main feeder cable cars in the ski areas (incl. ski buses and Montafonerbahn).
show more
show less
Validity:
Use of all feeder cable cars in Montafon, Brandnertal and in Bludenz (without sports equipment, except snowshoes), as well as the Montafonerbahn Bludenz-Schruns and the ski buses in the valley (within the framework of winter operating hours).
Silvretta Montafon - Hochjoch Bahn und Zamang Bahn in Schruns, Grasjoch Bahn, Hochalpila Bahn, Valisera Bahn und Garfrescha Bahn in St. Gallenkirch, Versettla Bahn in Gachurn
Erlebnisberg Golm - Golmerbahn (alle Sektionen) in Vandans bzw. Latschau
Skigebiet Gargellen - Schafbergbahn in Gargellen
Genießerberg Kristberg - Kristbergbahn im Silbertal
Silvretta-Bielerhöhe -Vermuntbahn und Tunnelbus in Partenen
Brandnertal - Dorfbahn, Palüdbahn, Einhornbahn
bzw. Bludenz - Muttersbergbahn
Does not apply to additional services, such as evening rides or Alpine Coaster.
Included in the offer is a deck chair rental incl. blanket (deposit fee possible) at the following mountain huts and restaurants:
Silvretta Montafon: Nova Stoba, Bella Nova, Valisera Hüsli, Kapellrestaurant
Golm: Panorama Restaurant Grüneck
Bergbahnen Gargellen: Schafberghüsli
Kristberg: Panoramagasthof Kristberg, Knappastoba
Silvretta Bielerhöhe: Silvrettahaus
Bergbahnen Brandnertal: Melkbodenhütte, Palüdhütte, Niggenkopfstüble, Restaurant Frööd, Fuchsbau, Rufana, Goona
Muttersbergbahn: Alpengasthof Muttersberg
Scheduled season start*
01. December 2023 Silvretta Montafon (Hochjoch), Bergbahnen Gargellen, 08. December 2023 Golm, Kristberg, Silvretta Montafon (Nova); 16.December 2023 Bergbahnen Brandnertal; 25. December 2023 Vermuntbahn
Scheduled season end*
01. April 2024 Bergbahnen Brandnertal, Kristbergbahn Silbertal; 07. April 2024 Silvretta Montafon (Hochjoch & Nova), Skigebiet Golm; 14. April 2024 Bergbahnen Gargellen; 01. May 2024 Vermuntbahn
* Season start: Weekend operations possible from the beginning of Nov. to the beginning of Dec. or later (partially limited) commencement of cableway operations, or earlier/later end of operations of individual cableways/companies.
All prices in Euro, price changes, errors, mistakes and changes reserved.